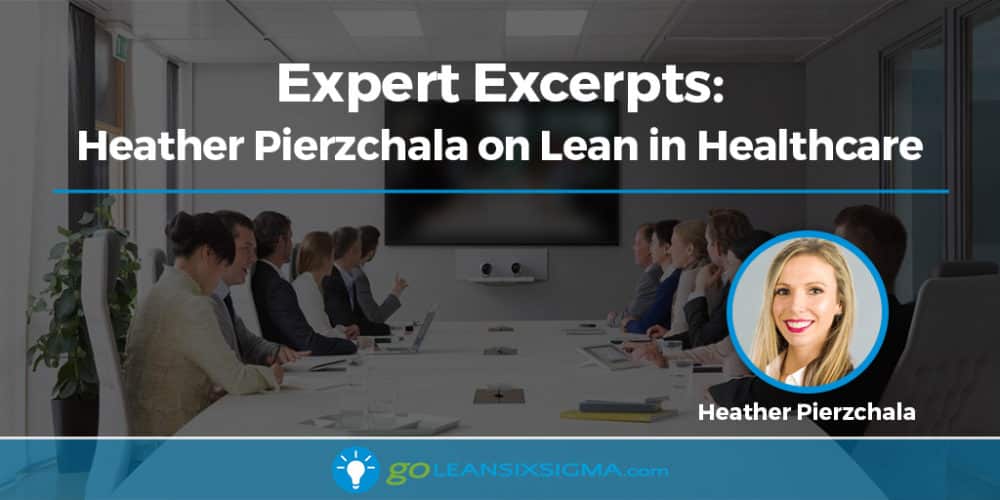 Whether you're just starting your Lean Six Sigma journey, or you're in the middle of improving a process, guidance from Experts can help make your efforts easier – and more successful! In this Expert Excerpt, we interview Heather Pierzchala who shares key insights to being successful with Lean in the Healthcare industry.
Heather Pierzchala is a Lean Sensei at Hartford Healthcare in Connecticut. She has over 7 years of experience supporting Lean in a variety of settings including manufacturing, business services and healthcare. She has a Master's degree in Technology Management with a concentration in Lean Management, a Bachelor's degree in Management Information Systems, and an Associate's Degree in Radiologic Technology. Her goal is to help leaders identify ways they can make Lean valuable for their business and attain results, all while maintaining a customer/patient focus and creating a culture that embodies respect for people.
What advice do you have for someone who is getting started with applying Lean in Healthcare?
My advice is to really put in the effort to understand the environment, the people in it, and what makes them tick. I can't advise someone on how to make Lean successful in their environment if I don't understand their business, their processes and the people dynamics they're working with.
I always set up sufficient time to shadow areas I'm supporting. I take advantage of cross-functional problem-solving sessions to learn about other areas that have influence with them, and I have lunch with the team just to connect on a personal level. The better I'm able to understand their area, the better support I'm able to provide. The better support I'm able to provide, the better the results produced. The better the results produced, the more value the team perceives and greater level of trust they bestow. Thus a more beneficial partnership is achieved all by making the effort upfront to embed myself into their culture.
What are some common mistakes you see people making when applying Lean in Healthcare?
One mistake we've recovered from is using manufacturing examples in our internal Lean training. At first, it seemed logical to do this since these examples illustrate the Lean concepts well and it seemed beneficial to transfer the application of the concepts to a healthcare environment.
Instead, it immediately caused our audience to put up a wall — "We aren't manufacturing!" This only strengthened an already difficult barrier to breakdown. So instead, we wiped all the manufacturing examples (while still being true to the historical aspect of Lean) and replaced them with solid healthcare examples. This allowed our audience to relate on a much more personal level and helped open minds to adopting Lean into their environment.
Do you have any pet peeves related to applying Lean in Healthcare?
Not really specific to healthcare but in general my pet peeve is when people approach problem solving with a closed mindset. Coming to the table with "No" already in the back of one's head drastically reduces the creativity of not only that person, but the entire group since that energy becomes contagious. When a barrier is presented that we must challenge a group on, we ask them to address it in terms of "Yes, if…" instead of saying "No." "Yes" automatically shifts the mindset of the group and that "if" uncovers what needs to be done to remove said barrier and move the group forward.
Is there anyone who has significantly influenced you over the years?
My mentor, boss, and professor, Mohamed Saleh, has been a constant influence over the years. He originally inspired me to pursue a Lean career back when I was his student in Central Connecticut State University's (CCSU) Technology Management Master's program. When I came to work for him a few years later at Hartford Healthcare, he coached me through a variety of growth opportunities, each challenging me in new ways and compounding lessons learned from the last.
One of the most important and difficult lessons he has taught me over the years is to be comfortable with being uncomfortable — you must maintain a large degree of flexibility in this field because you never know when a curve ball is going to come your way! He has built the Lean program and led the transformation at Hartford HealthCare from ground zero, so I know I have many more nuggets of wisdom to extract from him based on such experience!
Why do you do what you do? (What motivates you?)
The most rewarding aspect of my work is seeing the people I'm coaching get to that "Aha!" moment — especially the most resistant coachees. I once worked with a manager who would wave me off her floor every time I came to meet with her. Eventually we built a solid relationship and worked for months on establishing and perfecting her daily huddle.
One day I was observing her huddle as a Medical Assistant reported a problem she had identified and how she solved it. After the huddle the manager pulled me aside with tears in her eyes saying that in the 30 years she's been a nurse she's never seen her staff so empowered. It's the little things like that that let me know barriers are coming down and the culture is shifting. That culture shift is leading to better patient care and a better employee experience — a win-win that is certainly worth getting up for every day!
What's something exciting that you're currently working on?
Currently, our system is leading a Lean transformation at a newly acquired hospital. This is incredibly exciting because we have the opportunity to introduce Lean to an organization for the very first time. It is certainly different compared to rolling out Lean to an area in a system that has already adopted Lean — these groups at least have a reference point and some understanding of our operating model. In the case of our newly acquired partners, we are truly working with a fresh set of eyes. It has challenged me to leverage separate realities and reevaluate my approach, driving me to understand what motivates people and how to effectively communicate the why.
What's your favorite application of Lean Six Sigma in your personal life (away from work)?
I love teaching my kids 5S. There is plenty of opportunity when it comes to organizing their toys! They are young, 4 and 2, so they understand simple concepts like shadow boxes and putting things away in colored bins since they can't read labels. 5S has made their nightly chore so much easier by removing the frustration they used to feel when they weren't clear where to put things or what we expected.
Now they have a consistent process and know where things go so they are (for the most part) more obliging when it comes to clean-up. It also helps me recognize immediately when something important is missing — would you want to put a two year old to bed when her "beddy bear" is missing? I have more time to track down said bear and avoid a meltdown right before bed — crisis averted!
Have a question for Heather? Please feel free to ask in the comments below.