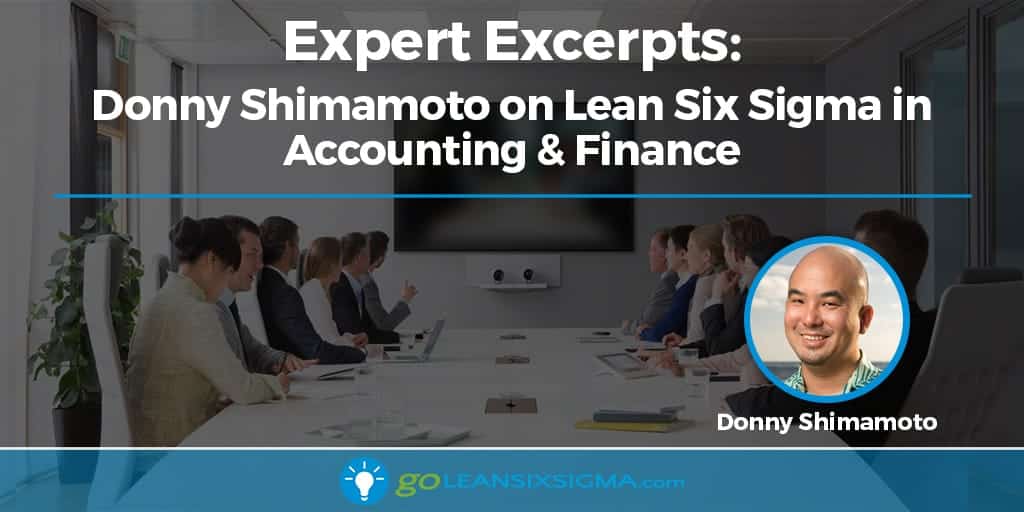 Whether you're just starting your Lean Six Sigma journey, or you're in the middle of improving a process, guidance from Experts can help make your efforts easier – and more successful! In this Expert Excerpt, we interview Donny Shimamoto, who shares key insights to being successful with Lean Six Sigma in Accounting & Finance.
Donny Shimamoto is a Certified Public Accountant, Certified Information Technology Professional, and Chartered Global Management Accountant. He's been recognized as one of the Top 100 Influential People by Accounting Today, and also as one of the Top 25 Thought Leaders in Public Accounting by CPA Practice Advisor. Donny serves as an outsourced Chief Innovation Officer for entrepreneurial small businesses, middle market organizations, and nonprofits—helping them to improve their overall performance through balanced growth and improved organizational maturity.
What advice do you have for someone who is getting started with applying Lean Six Sigma in Accounting & Finance?
As someone that has been consulting on finance transformation and accounting services modernization for over 15 years, I think the best way to start is to be sure to go back to the basics and be sure that you understand accounting processes and accounting information systems, and internal controls. The nice thing about accounting is that it is a very structured activity and has standardized patterns around how particular processes operate, so once you have the basics mastered everything else is a variation for the particulars of an industry.
What are some common mistakes you see people making when applying Lean Six Sigma in Accounting & Finance?
The biggest mistake I see people make in applying Lean Six Sigma to accounting processes is focusing too much on efficiency and forgetting that you really need to balance efficiency with proper internal controls. For example, some of the approval and review steps that sometimes seem like waste are part of the internal control structure and may have different reasons for being in place.
A great example of this is in the accounts payable and cash disbursements area. Some people see the approval occur in accounts payable and then again when a check is cut, and think that it is duplicative. However, from an internal controls standpoint, the approval in accounts payable is for the incurrence of debt, and the approval in cash disbursements is for the repayment of that debt. There are times when a debt may be valid (i.e. approval of accounts payable is ok), but an organization may not want to repay the debt yet (e.g. waiting for payment from customer so that funds are available).
Do you have any pet peeves related to Lean Six Sigma application in Accounting & Finance?
My biggest pet peeve is the "that's the way we always have done it" mentality that you see in a lot of accounting departments, especially in lower level (e.g. accounting clerk) positions. However, this often comes from not knowing the "why" behind the work or understanding the internal control aspects. So when addressing this, it's important to include an education component as part of the change management for a Lean Six Sigma project—educate them on why particular tasks are being done and whether it's because of an accounting principle or internal control reason.
Is there anyone that has significantly influenced you over the years?
For accounting and finance, my biggest influence was the controller at the company that I interned at during my senior year in high school. I was doing basic accounts payable work and I was doing a lot with computers as somewhat of a side hobby. He told me that I should double major in accounting and management information systems, and that the blend of the two would be a very powerful combination in the future. He was definitely right and now I'm one of the leading Certified Information Technology Professionals (CPAs that specialize in IT) in the nation.
Why do you do what you do? (What motivates you?)
I believe that accountants are the key to improving the world. By driving ethical behavior at the personal level and ethical decision making by our organizations through good governance, I believe that we can make the world a better place. I know that may sound kind of hokey, but who better to hold people accountable for their actions than accountants? So my biggest motivation is helping to transform accounting and finance to help improve the world.
What's something exciting that you're currently working on?
Part of the transformation of finance requires that accountants embrace technology and use it to deliver superior accounting services to their organizations. As I mentioned earlier, accounting processes follow some standard patterns. I'm in the process of developing what we call Intraprise Blueprints™, which will help enable accountants to better understand these basic patterns and their variations when different technologies are applied to them. Of course, these Blueprints will have already had Lean Six Sigma applied to them so when they are used, they represent the optimized state of the accounting processes.
What's your favorite application of Lean Six Sigma in your personal life (away from work)?
To be honest, I haven't actually applied it in my personal life yet… but this question really makes me want to try to identify an opportunity to do so.
Have a question for Donny? Please feel free to ask in the comments below.