I am assuming you are talking about the use of the SIPOC (a chart that shows Supplier, Input, Process, Output, Customer). In this case, the process steps are high level and may incorporate many steps. With a SIPOC, there can easily be a one to many relationship for outputs. A single output might have multiple customers (keep in mind that a customer is merely the user of a product or service. No money needs to change hands). For example, in a restaurant, the output of a customer order (the diners' choices off the menu) could include the following customers:
Kitchen
Diner
Cashier/wait staff
The requirements of all those users need to be considered.
In a SIPOC, inputs typically correlate to a step in the process, rather than directly to a customer. Suppliers provide inputs that are used in the process to produce the output(s). With that said, yes, there can be multiple inputs that correlate to a single step in the process. Let's apply this to the restaurant example. Assuming the customer order is a single step of the process, our inputs for that step include the:
Paper
Menu
Diners' menu choices
These inputs would be used to produce the customer order that is sent to the kitchen to make the food. It may also be used to bill the customer. See example below.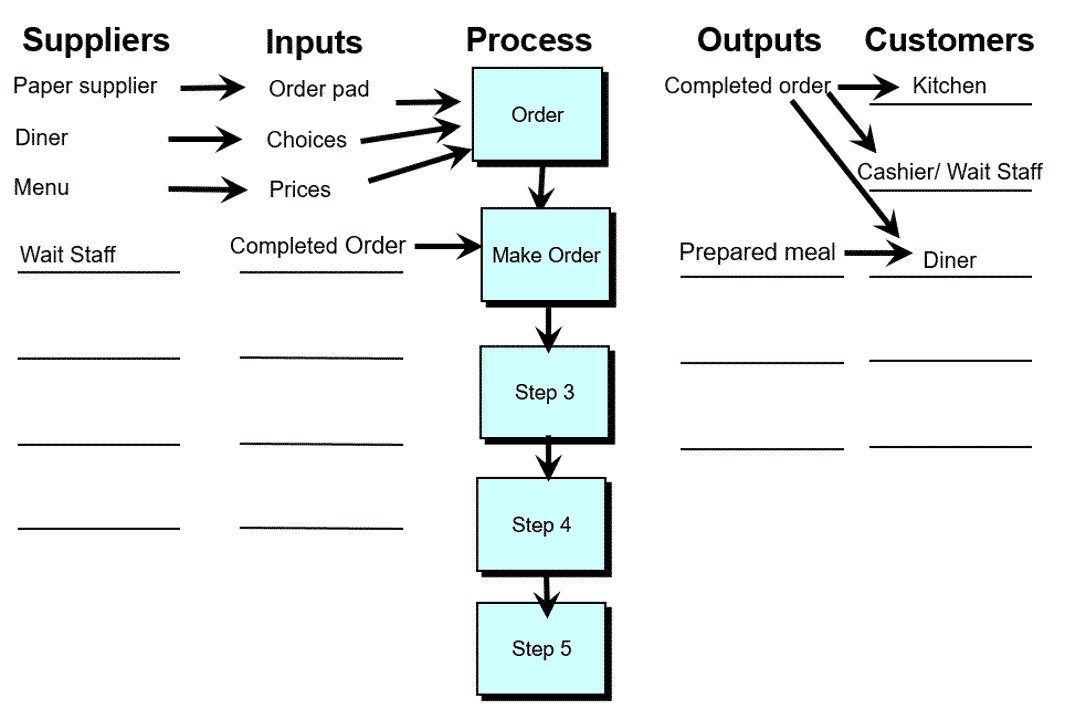 Last, you will also notice that if you break the process steps into even smaller steps, those one to many relationships may disappear. The one to many relationship will often depend on how detailed your process map is. However, it is perfectly fine to have one to many relationships as long as it is understood and documented.