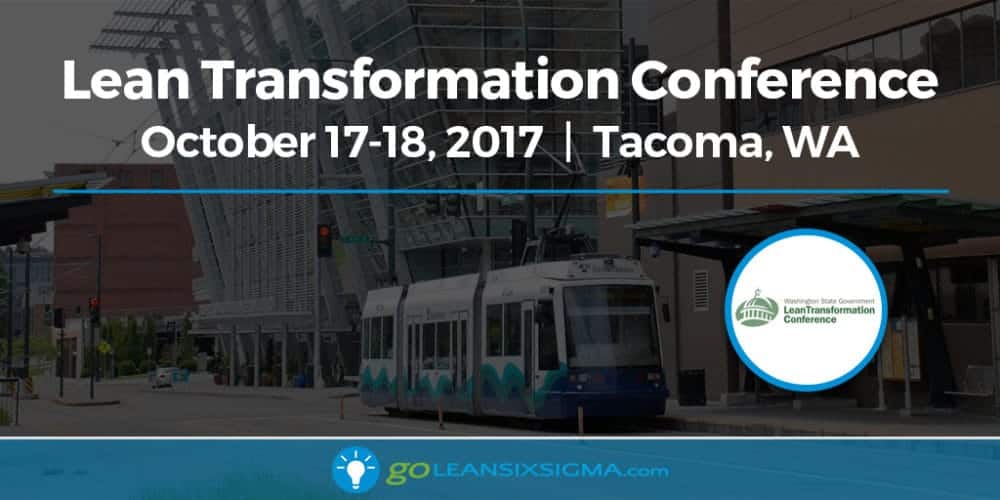 GoLeanSixSigma.com is excited to announce that we will be a Platinum Sponsor at the 2017 Washington State Government Lean Transformation Conference!
Hosted by Washington State government, this popular, no-charge conference fills up virtually every year. This event is not open to the public. It is a training and educational event intended primarily for Washington State employees. There is a limited number of spaces for people from other government organizations and private-sector partners with Lean management learning to share. Attendees will have the opportunity to deepen their understanding of Lean thinking and tools through the conference's key components:
Opening remarks by Gov. Jay Inslee
Four keynote addresses
Facilitated networking opportunities
Breakout sessions presented by our private-sector Lean expert partners
The conference theme this year is "Growing a culture of problem-solvers." The conference helps inspire attendees and is a great place to share ideas for using Lean principles and tools to deliver more value to the customers of government, nonprofits and others.
About the Lean Transformation Conference
At the annual Washington State Government Lean Transformation Conference, hosted by Results Washington (part of the governor's office), people can share ideas and inspiration about using Lean thinking in government. Attendees deepen their understanding of Lean principles and tools in dozens of sessions led by local and national leaders in Lean.
The conference is a great opportunity for more than 2,000 people from dozens of state agencies, tribal government, local government, the private sector and organizations to come together to learn about Lean, discuss lessons learned and share innovative ways of adapting Lean to the public sector. Breakout sessions are tailored for everyone from a Lean novice to folks who've been using it in their work for years. Anyone from line staff to mid-level managers to executive leaders will find lots to learn at the conference.
Registration Cost
The admission fee for this event is one canned food item, which will be donated to the Emergency Food Network.
Unable to attend? Check out event coverage here.
---
GoLeanSixSigma.com is honored to support the State of Washington's Lean Transformation by sharing the most practical, easy to understand and high quality Lean resources available.
Please stop by our booth and say hello!
Free Introduction to Lean Training (sign up below)