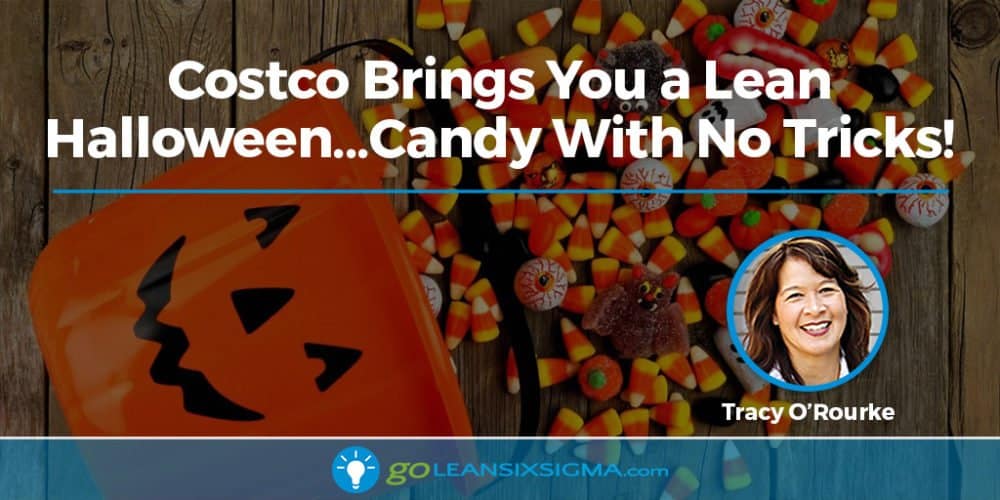 My favorite holiday, Halloween, is almost here. Are you ready for trick-or-treaters? Need candy? Well even if you aren't ready, Costco Wholesale Industries (CWI) has been busy packaging Halloween candy in their packaging facilities for the last 3 months.
---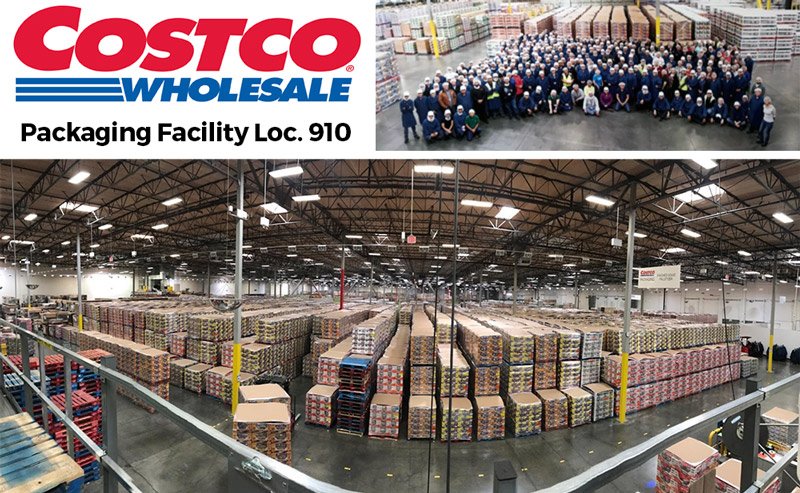 Costco's two packaging facilities serve all their locations worldwide. The San Diego facility, shown above loaded with candy, will provide candy to all stores in the western US, Mexico, Japan, Taiwan, South Korea and Australia.
The other Costco facility is in New Jersey, and they provide candy for all East Coast Costco locations, UK, France, Spain, Eastern Canada and Iceland.
A Trip Through Candy-Land
I had the pleasure of touring the 30,000-square-foot, 36-dock facility last month with Continuous Improvement Manager Carlos Vallejo.
I've never seen that much Halloween candy in one place! What's more mind-boggling than oodles of candy is Costco's Lean Transformation journey. Over the last 5 years, employees at Costco's Packaging Facility have implemented over 864 process improvements.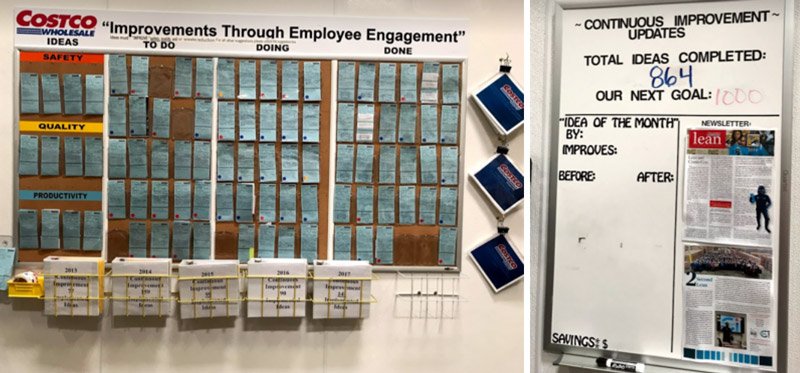 Pictured above is of the one of Costco's packaging facility idea boards. Costco management and staff work on this board regularly and, as a result, it's full of employee ideas.
A Sampling of Improvements
Below are a few stand-out process improvements:
Employee Safety
One of their first Lean Six Sigma projects was to restructure the Employee Safety program. In 2009, the packaging facility was not known for employee safety, so they decided to collect some data. To better understand the root causes of accidents, they asked the following questions:
When did the incident occur?
What shift and department?
What time of day?
Where in the facility?
With what equipment?
Using Pareto Charts, the staff identified the top 5 causes and locations where the incidents/accidents occurred and developed countermeasures to address the root causes.
One of the ways the facility helped to reduce injury was to install easy loaders. This contraption helps minimize injuries for employees by reducing bending and minimize attempts to maneuver heavy pallets of product. The easy loader has a spinner built in and as the pallet gets loaded it will lower for employees to easily stack the pallet with more product.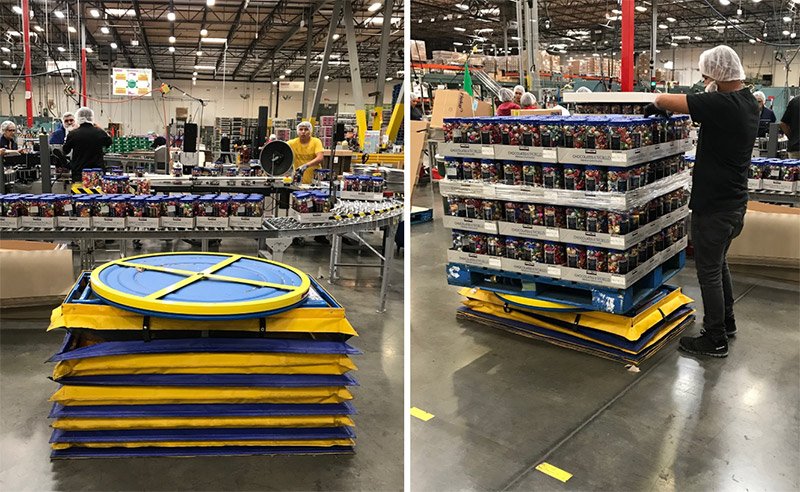 Within 5 years, the Packaging Facility became one of the best performers in the company. As of the time of this article, they have gone 420 days without an accident.
Inventory Management
For many years until 2008, conducting a physical count of inventory for the entire warehouse every 4 weeks had been a challenge for several years. Assessing inventory involved counting all raw material, all packaging material as well as all finished goods. It took 16 teams, of 2 employees each, 8 to 10 hours to conduct the count with only 60% to 70% accuracy. Eventual recounts added another 4 hours of labor.
In 2017 and new inventory management system was introduced (WMS) which reduced the number of teams from 16 to 6. Time to complete the physical counts went from 10 hours to less than 6 hours. Inventory accuracy went from 70% to 95%.
Product Loading
Loading finished goods into trailers efficiently proved to be a problem. Typical trailer loads consist of 48 or 60 pallets, with a maximum of 40,000 lbs per trailer. Often buyers request full loads with different products, which is challenging since each finished good product has a different cube, weight and height.
A select group of forklift drivers knew how to calculate and balance the weight of a full load, but it would take 15 to 20 minutes to calculate. If the calculations were wrong, they had to do everything over. They had to return the truck to the facility, unload the product, run new calculations and then load the truck all over again. This happened 8-12 times a week out of approximately 120 loads.
The improvement team had individual meetings with the experienced forklift drivers to create a Current State Map for the calculation and decision-making process of each driver. Surprise, surprise, each driver had their own method! Next, the team created a Future State Map using best practices from the drivers. Once they had designed the ideal process they hired a programmer. It took almost a year, but once they implemented the new software program, they lowered the time it took to create a load sheet to less than 2 minutes — and now any certified forklift driver can load a truck.
The beauty of this project is that Costco created their own software. It was a low cost solution that saved lots of time and money. These are just a few striking examples of the 841 improvements from Costco's Lean efforts.
Don't Give Up!
I asked Carlos if he had any advice for his peers, other continuous improvement leaders. He said, "The first year is hard. My advice to you…is don't give up…if you keep going and keep going, you will see the results in two or three years and that is the reward… that feeling is much larger than a paycheck…because you were able to make a difference."
There are no tricks at Costco, just hard work, discipline, respect for employees. That is a treat in itself, regardless of the candy.
---
To hear more about Costco's success, listen to Jeff Konstanzer and Carlos Vallejo's interview on the Just-In-Time Café Podcast.
To read more about Costco's journey, check out this article published in AME and written by Jerry Wright. In November, the Association of Manufacturing Excellence (AME) Conference will take place in San Diego. If you have an interest in touring Costco's Optical Lab, sign up for the tour and see the transformation yourself. It's worth seeing!
To hear more about Costco's success, listen to our upcoming Jeff Konstanzer and Carlos Vallejo's interview on the Just-In-Time Café Podcast!