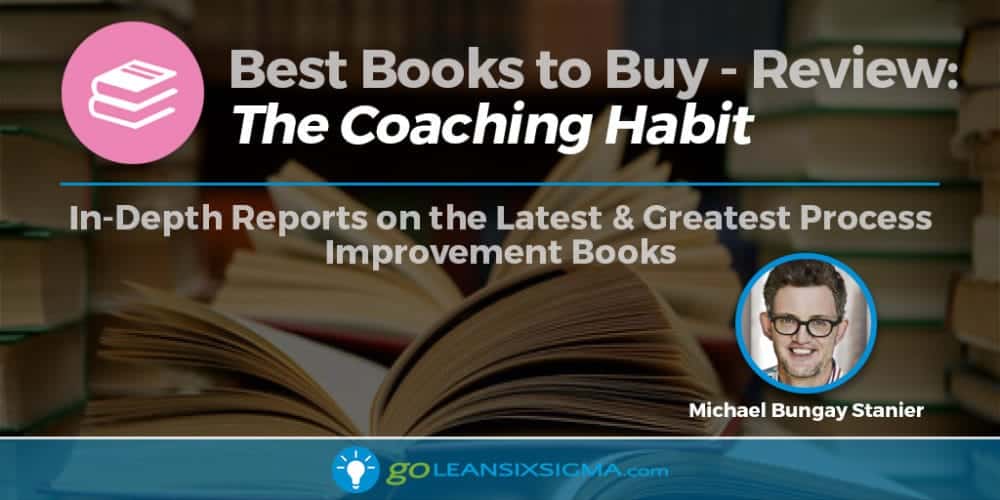 This month's book is The Coaching Habit: Say Less, Ask More & Change the Way You Lead Forever by Michael Bungay Stanier.
About the Book:
You're probably not getting very effective coaching and you're probably not delivering very effective coaching.
Sobering words from Mr. Stanier about the current state of coaching. Luckily he doesn't stop with that dour prediction. He proceeds to offer a down-to-earth, rational, accessible and often funny path for leaders of all kinds.
Mr. Stanier is a generous author. He relies on the research and techniques from colleagues but he not only references his sources, he provides links to their sites and to a series of interviews with key thought leaders. I read the printed version but that gave me access to a free download of the ebook where I could easily click on the links (except for the interviews). That gave me the feeling that although it's a compact, narrowly focused little book, it includes paths to much broader research and understanding of each topic. He doesn't provide an extensive bibliography at the back because he doesn't need one.
The book begins with an exploration of the title word, "Habit." He mines the relevant research of Charles Duhigg, who wrote The Power of Habit, to provide a foundation for readers to build their own coaching habit. The Coaching Habit is largely about the right questions to ask, but the assumption here is that you'll not only learn the questions but permanently incorporate them into your work life. That's a nice change up from the usual experience when reading business books. They provide great new ways to improve your work life but that doesn't end up happening. You might try out a new behavior…for a few days, but then you have a deadline, then you have lunch, then you have a hangnail and there you are. If asked a month later, you'd have a tough time describing exactly what the book was about.
I enjoyed the format of this book on multiple levels. The heart of the book is 7 questions for coaches to ask, but each question is accompanied by a lead-in description, a pithy quote, examples of how conversations might flow and what to watch out for. Then he follows each chapter with Duhigg's model and provides space for you to find your own "trigger" for old habits with a guide to designing your new habit. He follows each of these "Build Your New Habit Here" segments with a highlighted "Watch It Work" segment. These are links to his own, self-described, "funky webinar style" videos. These are anywhere from just under 2 minutes to about 15 minutes and they're a kooky mix of him talking, instructional banners and photos to highlight analogies – like a photo of a bat to feature listening skills. He's smart, funny and approachable as he expands on how to ask questions – the videos are genuinely helpful and, as a diversion, you can watch as his hairstyles morph with each clip.
I immediately put the book to use this past week. I had a team of 11 Green Belts to coach the other day and I added one of Stanier's favorite questions into the latter half of the coaching sessions, "What's the real challenge here for you?" I was surprised during each session when every one of them brought up a topic we hadn't touched on yet. And they were important challenges that deserved attention. Historically, I've used versions of Stanier's questions as a rule, but after watching his videos this week, I've got a few more to work into the mix.
His style may not be for everyone, but his quirky humor and delivery was a cool glass of water for me. I read a lot of books for work, and I don't always enjoy myself as much as I did with this book. Concepts like the ill effects of what he calls the "Advice Monster" sparked my thinking – lots of "Ahas." Mr. Stanier invites readers to connect with him on LinkedIn, which I did, and he immediately reached out and answered one of my questions. Clearly well-raised.
His style may not be for everyone, but his quirky humor and delivery was a cool glass of water for me.
About the Author:
Michael Bungay Stanier is based in Toronto, Canada and he's written a number of books including the award winning, Do More Great Work. He was a Rhodes Scholar and the first Canadian Coach of the Year. He's a keynote speaker and his focus is helping managers improve their coaching skills. Interestingly, like Daniel Pink, he's got a law degree – and again – we're lucky he didn't chose to practice law!
Practical Tools and Concepts Covered:
Coaching Skills
Listening Skills
Influence Skills
Inquiry Skills
How to form new habits
Who Should Read The Coaching Habit?
From the Page:
"…the real secret sauce here is building a habit of curiosity. The change of behaviour that's going to serve you most powerfully is simply this: a little less advice, a little more curiosity. Find your own questions, find your own voice. And, above all, build your own coaching habit."
---
Check out our Amazingly Awesome List for more book reviews as well as a comprehensive list of Lean Six Sigma and process improvement books!