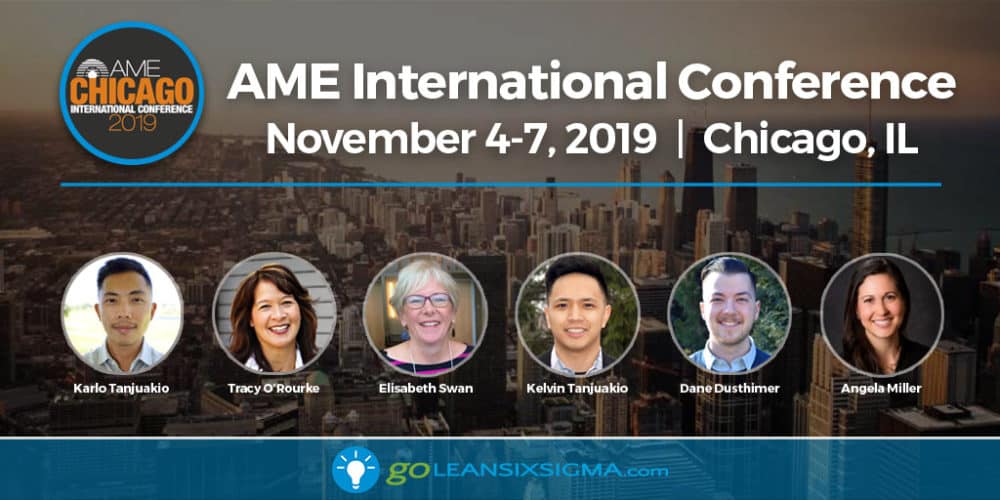 Top 5 Reasons to Attend AME Chicago 2019
With an amazing schedule of continuous improvement learning activities on deck, here are the top 5 reasons to attend AME Chicago 2019:
1. Networking
AME Chicago 2019 is the world's largest lean conference. You'll meet others who are passionate about sharing solutions to the same challenges you face. Rub shoulders with fellow practitioners as you uncover strategies and proven tactics. You may even meet a new lifelong friend. To increase your networking opportunities, be sure to stay where all the action is – the Hyatt Regency Chicago, AME Chicago 2019's host hotel.
2. Best Practice Tours
Tour facilities from industry leaders so you can see what works. Witness excellence at organizations including AME Excellence Award Recipient Accuride Rockford Operations, UChicago Medicine, MillerCoors, S&C Electric Company, Sheridan Correctional Center, United States Postal Service and more.
3. Keynote Speakers
You'll hear from a diverse group of distinguished keynote speakers who will inspire you on your enterprise excellence journey, including Tom Peters, business management leader and author of "The Excellence Dividend;" Richard Sheridan, CEO, chief storyteller at Menlo Innovations and author of Chief Joy Officer; Grace Wakulchik, president and CEO at Akron Children's Hospital; Nigel Thurlow, chief of Agile at Toyota Connected and many more.
4. Practitioner-led Sessions
Learn from practitioners who are leading their organizations along the lean, continuous improvement path. Presenting companies include GE Transportation, Goodyear, Ingersoll Rand, Texas Nameplate and many more. These sessions explore a variety of topics and are presented in different formats: traditional presentations, idea exchanges and speed-chat panel discussions.
5. Deep-dive Workshops
Take an in-depth exploration of the topics that help your organization improve and grow. Pre- and post- conference workshops are half-day and full-day in length and provide insightful, lean, practical thinking.
Share, learn and grow with us…we look forward to seeing you in Chicago!
---
Get ready for the AME Chicago International Conference, November 4-7, 2019 in Chicago, IL!
At the AME conference, you're not just hearing about lean, you're seeing it firsthand. The AME conference provides a forum whereby attendees can stay current with new and developing management and operational techniques. One of the best features of the AME conference is that attendees have the opportunity to leave the conference venue and tour manufacturing facilities to see lean in action.
AME Chicago 2019 will offer inspiring keynotes throughout the week, including thought leaders in the areas of innovation, leadership, engagement and continuous improvement. Practitioner-to-practitioner sessions will be offered throughout the week in a variety of formats, including roundtables, in-depth panel discussions and innovative, attendee-driven content to maximize your learning experience.
Come join us and you'll meet experts who will speak with you about:
Committing to lean ideas and the lessons learned from diverse organizations and industries
Leading people with outside-the-box thinking that develops and empowers individuals in order to create a collaborative environment
Fostering engagement and trust through transparent communication
Embracing technology and innovation to ensure long-term success by focusing on future strategies and customer needs
Improving business processes throughout the enterprise