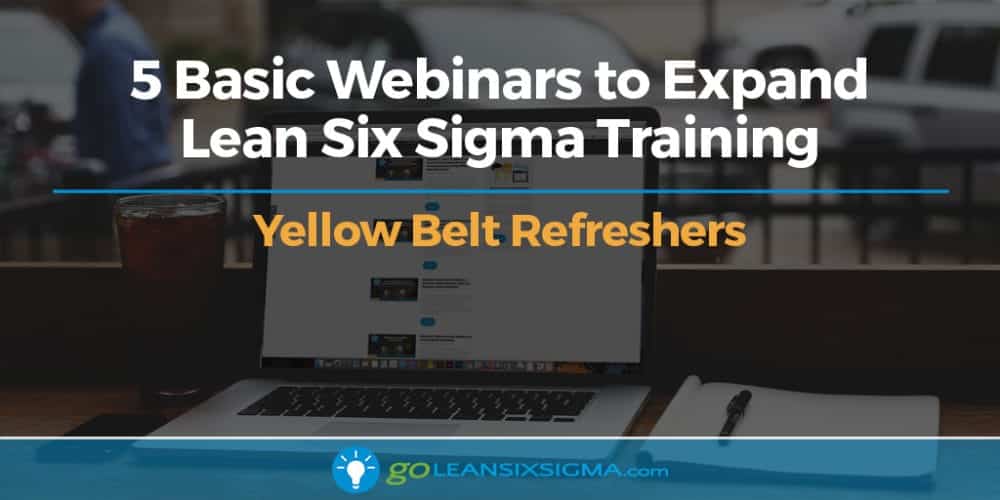 Being introduced to Lean Six Sigma using online training means you can go at your own pace, return to topics when you want and listen to the accompanying voiceovers for additional information. But what if you want to know more? We've got the perfect thing for you! These 5 basic webinars give you a little more depth on the secrets of problem solving.
Listen to sessions that were recorded live with hundreds of learners from all over the world. See how our experts answered their questions and then download the slide deck so you have your own copy!
Please check back with us often as we add new webinars regularly and we'd love for you to join us!
---
Yellow Belt Refreshers
Watch our 1-hour introductory webinar below and you'll learn how to begin applying Lean right away. You'll learn what Lean is, why Lean is good for business and how some of the basic Lean concepts can improve and transform your operation.
---
Are you going to be conducting, facilitating, or participating in a Process Walk? Watch this 1-hour introductory webinar to learn and understand what will happen during a Process Walk as well as set expectations, establish ground rules, and understand the what and how of Process Walks.
---
Did you know that curiosity catalyzes creativity? Watch this 1-hour introductory webinar as we share how you can promote curiosity in your workplace to inspire creative solutions to everyday problems.

---
In this 1-hour introductory webinar we'll walk through some classic ways to build a Fishbone Diagram, we'll show you some of the common missteps and we'll provide examples of what they look like when they're properly executed.
---
Watch this free 1-hour introductory webinar to learn how to use powerful visual management tools to promote positive change in your organization.

---
View our upcoming webinars and join live so you can ask questions and let us know what you'd like to us to cover next. We're busy building new webinars all the time. And we're happy to know you're busy too – building your problem-solving muscles – keep it up!
Get Full Lean Six Sigma Training & Certification