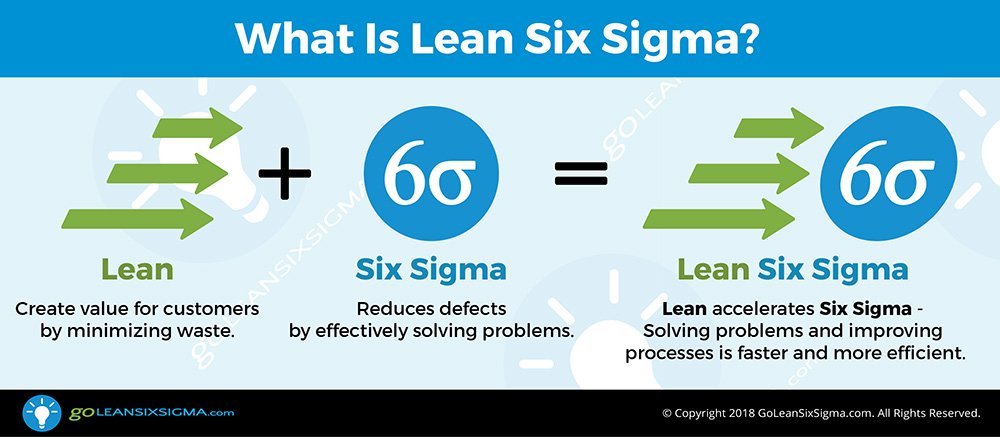 Lean Six Sigma is a combination of two powerful process improvement methods:

Lean

and Six Sigma.
Lean Six Sigma decreases your organization's costs by:
Removing "Waste" from a process. Waste is any activity within a process that isn't required to manufacture a product or provide a service that is up to specification.
Solving problems caused by a process. Problems are defects in a product or service that cost your organization money
At GoLeanSixSigma.com, our goal is to help you easily understand Lean Six Sigma so that you can apply it more easily. Check out our free Yellow Belt Training to start improving today!
Lean is popular for its methodical approach to streamlining both manufacturing and service processes by eliminating waste while continuing to deliver value to customers.
Six Sigma is simply a method of efficiently solving a problem. Using Six Sigma reduces the amount of defective products manufactured or services provided, resulting in increased revenue and greater customer satisfaction.
What are the benefits of using Lean Six Sigma?
Organizations face rising costs and increasing competition every day. Lean Six Sigma allows you to combat these problems and grow your business the following ways:
Increases Profit
Decreases Costs
Improves Efficiency & Effectiveness
Helps Develop People/Employees
How does Lean Six Sigma work?
Lean Six Sigma is simply an effective methodology used to fix a problem. It is based on common sense practices and is completed in five phases: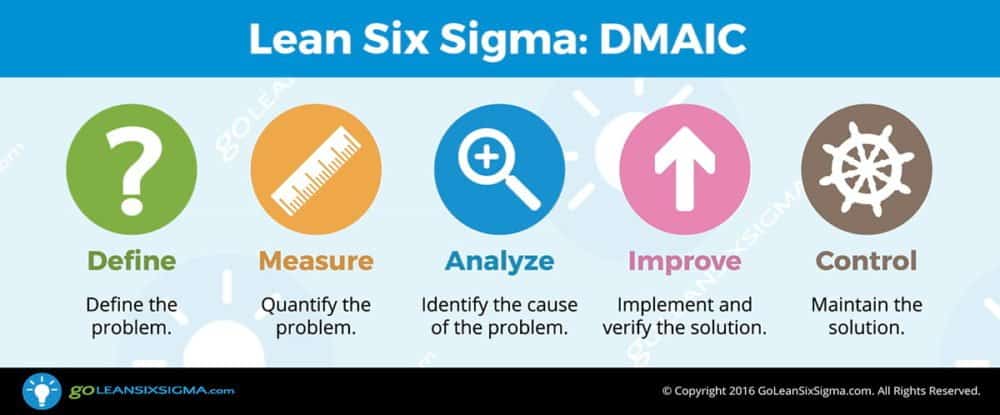 Who benefits from using Lean Six Sigma?
Lean Six Sigma works for small, medium (SMBs) and large businesses. In fact, often times, the same success that is achieved within large businesses can be achieved in small and medium businesses since smaller organizations can move faster because less people, fewer resources and lower levels of red-tape are involved.
The benefits are boundless, as Lean Six Sigma increases revenue and reduces costs, while freeing up resources that can be utilized toward any endeavor your organization wishes to pursue.
For example:
A new product or service
Other improvement projects
Expanding your sales force
Lean Six Sigma not only increases revenue and reduces costs, it positively affects people by engaging them in improving the way they work. Since employees are the closest to the actual work (production of a product or delivery of a service) of any organization, they become the best resources to understand how to improve the efficiency and effectiveness of business processes.
By participating in successful Lean Six Sigma projects, employees are able to build the confidence and develop the capability to become your business' most important assets. Studies show that when employees feel that they have a positive affect on the organization, they perform better, are more accountable and live happier lives. And once your employees get comfortable with Lean Six Sigma skills, they can continue to find and remove problems and waste in your organization.
What are the Roles in Lean Six Sigma?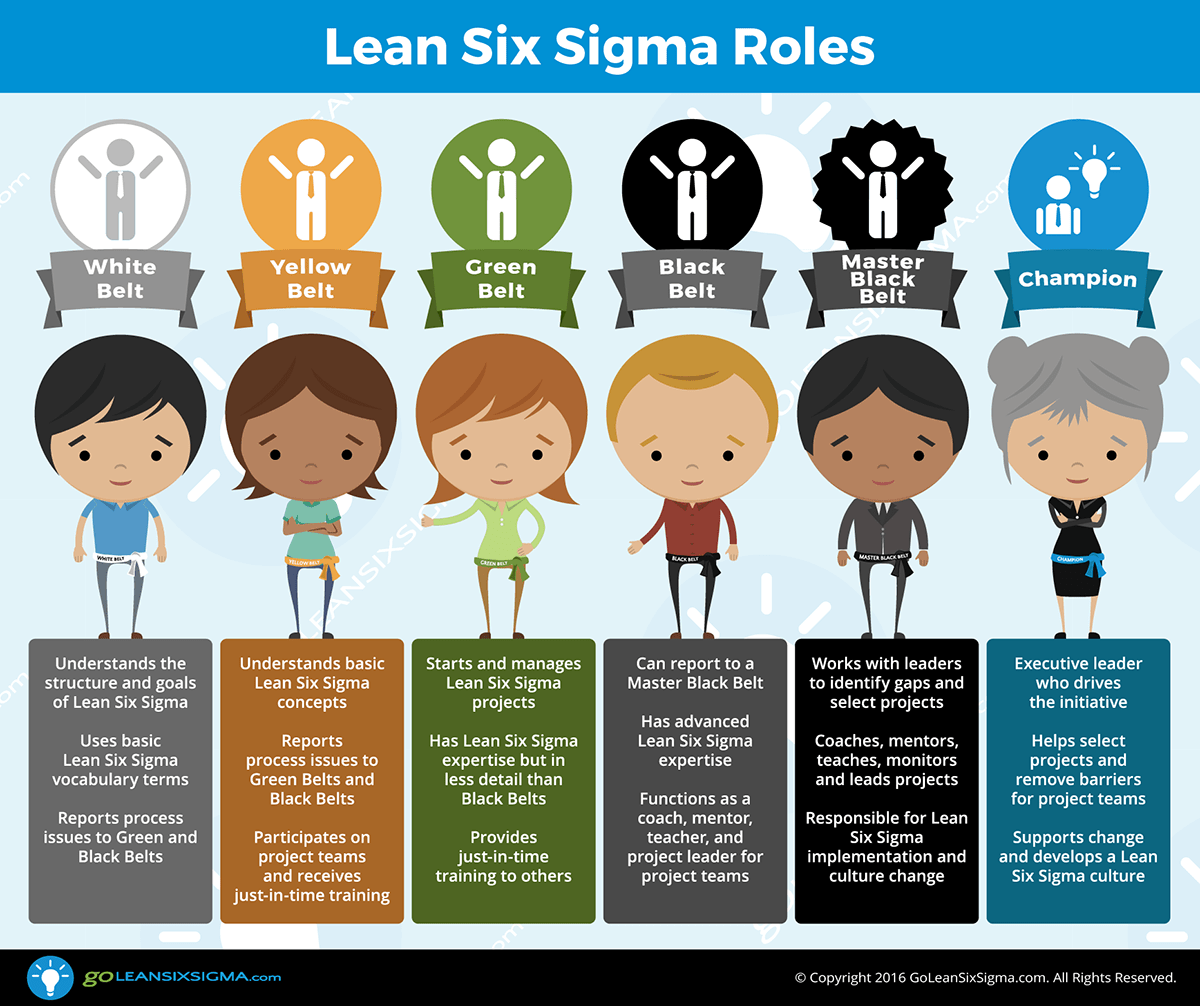 ---
---
Our Online Training was developed to meet today's changing business environments by deeply experienced, highly successful Lean Six Sigma Experts. With over 25 years of experience saving organizations in virtually every industry hundreds of millions of dollars, our Online Training draws on what our Experts practice every day in the field to provide you with the most effective way to learn and implement Lean Six Sigma.
Yellow Belt Training Duration: ~8 hours (1 day, 1 CEU / 8 PDUs)
Yellow Belt Training Cost: FREE
Yellow Belt Certification Cost: $199 –  learn more about Certification
For in-depth Lean Six Sigma Training & Certification, check out our Green Belt course: Compare Yellow Belt and Green Belt Training.
GoLeanSixSigma.com Makes Lean Six Sigma Easier Than Ever
Using Lean Six Sigma doesn't need to be difficult. Contrary to the often confusing and intimidating information most Lean Six Sigma resources provide, the methodology is quite understandable.
Lean Six Sigma is based on clear principles and can be implemented on any process within any industry – in manufacturing and service, and in companies small to large.
---
What's Next?