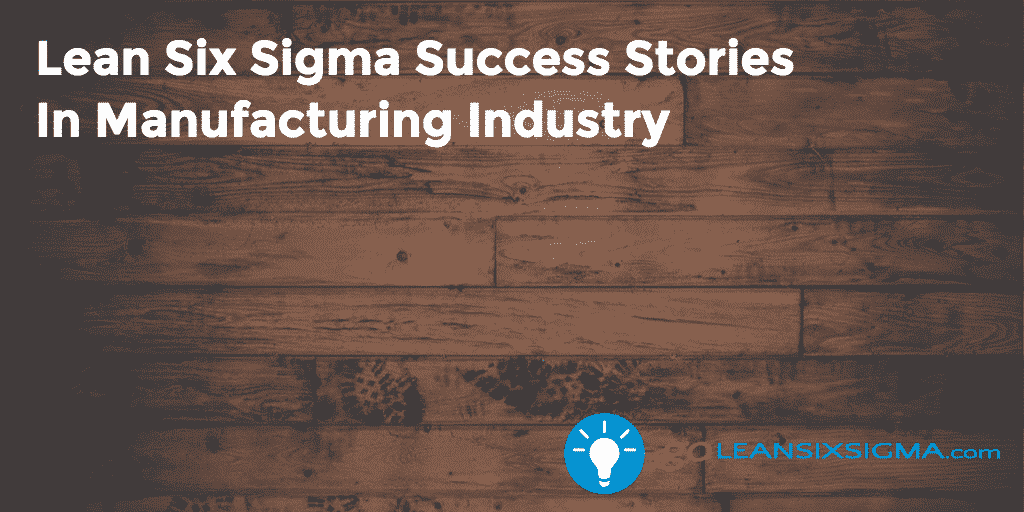 Below are Lean Six Sigma success stories in the Manufacturing industry organized alphabetically. For success stories in other industries, please visit our Lean Six Sigma Success Stories page.
3M
In a recent investors and analysts meeting hosted by 3m, a new five year plan for the company was created. The five-year plan lists financial objectives, customer objectives and how the company can position itself for the rest of 2016 into 2017. 3M will use Lean Six Sigma to streamline their supply chain and customer service.
3M and Rush Enterprises are getting ready to purse new design and manufacturing for compressed natural gas (CNG) systems to North America. The tanks to be supplied by 3M will be 30% lighter with 10% more storage than alternate types available. By pairing leading materials, technology, and expertise in Lean Six Sigma, the overall quality and reliability will be brought to a whole new level for customers.
Despite a weakened global economy in Europe and China, Trefis.com expects 3M will be able to avoid a sharp decline in operating margins (which are currently at a remarkable 20%) thanks to its use of Lean Six Sigma to maintain productivity.
Indiana's Department of Labor has awarded 3M's Hartford City location a "Star" site certification in its Voluntary Protection Program (VPP) as of May 2013. This is thanks to an illness and occupational injury rate 40% below the national average over 3 years, thanks to Lean Six Sigma, Kaizen, process hazard analysis, and other safety programs. Less than 60 Indiana workplaces receive VPP status.
Acme Industries
This article describes a situation faced by a real company–we'll call it Acme Industries Inc.–in which it was compelled to adapt its Six Sigma manufacturing expertise to improve its pricing processes. The initial goal of generating $500,000 in incremental revenues during the first year was handily exceeded in only three months. More important, a subsequent across-the-board list-price increase was fully reflected in the top line for this product. By contrast, other product lines realized less than half the increase. That list-price increase, together with the tighter controls the Six Sigma team developed and implemented, resulted in $5.8 million in incremental sales in just the first six months following the project's implementation, all going straight to the bottom line.
Aluminum Trailer Company
Aluminum Trailer Company (ATC) president Steve Brenneman discusses how the recession spurred his company to use Lean techniques in 2009 battle a drop in sales. Through a combination of streamlined material, information and part flows, the establishment of standards, and the communication of said standards through his company, Brenneman was able to cut warehouse space in half while slashing the sales cycle from 7 to 3 weeks. In 2010, Brenneman shifted the focus to greening his company by using Deming's PDCA (Plan, Do Check, Act) methodology to upgrade to more efficient lights, encourage plastic, wood, wire, and cardboard recycling for line staff, and cut paper use 50% in the office.
Aviation and Missile Research Development & Engineering Center
By improving business processes, the Aviation and Missile Research, Development and Engineering Center (AMRDEC) has experienced cost saving and the elimination of waste throughout processes. To meet goals and save cost, the Center used Lean Six Sigma and Value Engineering tools. AMRDEC employees contributed a variety of cost efficient benefits including reliability improvements, technology insertion, reduced administrative burden and time deliveries.
Barcoding Inc.
Barcoding, Inc. has launched Supply Chain Architecture, "a dedicated practice for the identification, formulation, and management of perfect order fulfillment processes." To ensure that all people and processes are aligned, Barcoding uses Lean methodologies. Barcoding positions themselves to guide clients and their teams towards long-term success.
Crown Equipment
Continuous improvement has been a part of Crown Equipment's philosophy since its founding in 1945. With decades of success and an impressive history of growth stems, leaders at Crown Equipment strive to find new ways to use Six Sigma and stay aware of changing technology and market trends. Crown's keen awareness and Lean corporate efforts allow Crown to identify root causes and advance tools to achieve higher desired outcomes.
Cummins
The Minority Corporate Counsel Association (MCCA) has named Cummins, Inc. the 2014 Employer of Choice for the Midwest Region. This award honors departments that demonstrate diversity and commitment to creating an inclusive workplace. Diversity is one of Cummins' core values and their general council department has made tremendous strides in building diversity through Six Sigma.
Cummins, a fortune 500 corporation that designs and manufactures power generation equipment and systems has been named the 2014 Corporate Recycler of the Year. Cummins has a goal of 95% recycling of its waste by 2020 across their 22 facilities and staff of 46,000. By using Six Sigma and Lean manufacturing techniques, Cummins' sites increased their recycling rate to 97.87% this year!

General Cable
Adopting lean and six sigma over a decade ago has allowed General Cable to remain competitive in an extremely price-sensitive and cyclical industry. The company has 6 master black belts, 64 black belts, 211 green belts, 290 lean technicians that enable them to have a consistency of response — in other words, everyone has both the tools and knowledge to handle situations. As a result of this continuous improvement mindset, General Cable is expected to drive down costs by several percentage points annually.
GKN Sinter Metals
In 2008, the profit return on sales was below zero for GKN Sinter Metal's Germantown. The negative numbers started a fire in their shoes and although the fire was slow to start, the momentum began picking up in 2011 and 2012. With the momentum came the lean and kata concept. This was the missing piece at the Germantown facility.
Gooch & Housego
Gooch & Housego, the fiber optic manufacturing site in Boston, has been granted $98,300 by the Commonwealth of Massachusetts to go towards the full expansion of the site's Lean manufacturing program. The program sets out to get employees engaged at all times with four specific goals in mind.
Ingersoll Rand
IR took on the task of improving the order entry process, utilizing the DMAIC approach and Six Sigma tools. As a result of these efforts, defects were reduced dramatically. The process itself is approaching a 70-percent reduction in defects, moving from 0.5 sigma to 3.53 sigma. Customer satisfaction has also improved tremendously.
Jabil Shanghai
Jabil Shanghai applied Lean Six Sigma principles to optimize manufacturing processes in their Shanghai facility. Their application of Lean Six Sigma turned heads and won both internal and external awards. The 16 month program towards process improvement allowed the team to learn and apply DMAIC, develop best practices, and increase team communication.
Louisiana-Pacific Corp
Curtis M. Stevens, CEO of Louisiana-Pacific Corp, mentions how Lean Six Sigma assists his company in being more efficient and effective at its manufacturing facilities, which produce building materials, industrial wood products and pulp.
Luvata
Solar ribbon manufacturer Luvata's Pori, Finland facility has been certified as Lean after a successful seven years of implementing process improvement principles. Luvata's clients include Siemens, CERN, and Toyota.
Magline
Magline is a leading manufacturer of route distribution solutions, lightweight aluminum hand trucks. Magline recently provided an article to their Delivering Excellence Newsletter summarizing the importance of having a competitive edge and "touching the materials handling aspect of business." To maintain a competitive edge and keep satisfied customers, Magline uses Lean Six Sigma.
Molded Devices, Inc.
Molded Devices Inc. (MDI), headquartered in Riverside, CA, has invested in upgrading the company's Tempe, AZ injection molding operations. All of the inspection equipment is currently connected to statistical process control software as a part of a continuous improvement program. Current upgrades to machinery are on the path to Six Sigma.
Plasticard-Locktech International (PLI)
Plasticard-Locktech International (PLI) will be investing $4.6 million in facilities and equipment. This includes 30,000 square feet of production space and 42 new jobs, thanks in part to the adoption of Six Sigma for quality control. Six Sigma has helped PLI develop a system of checks to ensure high quality products and satisfied customers.
Santana Textiles
What could be better than improving product quality, decreasing production costs and eliminating waste? Try doing all three of those things while simultaneously bringing jobs back to the United States. Santana Textiles, located primarily in Brazil and Argentina, will be working with South Texas College to improve business practices at its 33-acre Edinburg, Texas facility. This Fall, 330 employees will be taught in the finer points of Six Sigma, Lean manufacturing, and supply chain management in an effort to reverse the trend of textile jobs being transferred overseas.
Seegrid
Robot vision-guided truck builder Seegrid has helped manufacturers stay lean by automating materials handling using Lean manufacturing principles. At American Packaging Corporation, when material handling labor hours were reduced by 19%, this enabled the company to expand its manufacturing while not only keeping its workforce but requiring the hiring of more workers.
Spanbild
New Zealand business Spanbild, which designs and builds residential and commercial buildings, has seen impressive improvements in since the beginning of the year by employing lean manufacturing principles. Spanbild has decreased waste by 44%, improved efficiency by 17.8%, and increased the timber team's productivity by 20%.
The Jubach Company
Tim Jubach and his family are developers of log homes and land in Hocking Hills since 2002. They custom design through construction and after sale support. In 2003, Tim's son joined the team and brought Six Sigma innovation to the company. His business experience not only complemented his father's experience but also brought improvements to reduce waste. The company only has 5 employees and reported $2 million in revenue last year!
Universal Machining Industries Inc.
Aerospace manufacturers from around the world are said to be highly sensitive to Six Sigma. Today's requirements for aerospace manufacturing demand the highest levels of efficiency and attention to detail. In order to be successful, there is an extreme commitment to efficiency processes. Universal Machining Industries Inc (UMII) was established in 1997 and their dedication shines with 98.5 percent on-time delivery and 99.8 percent quality acceptance rates.
Vermeer Corp.
Vermeer Corp. CEO Mary Andringa, who is also chair of the National Association of Manufacturers (NAM), is using Lean to lower healthcare costs for her manufacturing company. She does this through regular kaizen events to increase efficiency and develop best practices.
Data and analytics eliminate the need for guesswork when it comes to Lean strategizing. Data shows real results and information. When rolling out a successful Lean manufacturing strategy, the author of this article states that "manufacturing managers can make informed decisions" about which areas of manufacturing need immediate attention due to the accurate, accumulated data and information. It has been said that Lean is the single most important concept in the manufacturing industry.
---
Join the GoLeanSixSigma.com mailing list for new Lean Six Sigma success stories, application tips and innovative implementation ideas from highly experienced, successful process improvement experts!